Hear What Our Customers Have to Say
The Pacific Coast Water Systems name has come to stand for longevity, superior products, outstanding warranty and great service. But it is our long-standing customers and our high customer retention rates that make us most proud. Read some testimonials from our existing customers below.
"Just a note to express my thanks for the good service we have received since we received our new water conditioner. Both your attention and that of the installers have made for a pleasant experience. Thank you very much. We sure couldn't get by without it."
"Thank you seems most inadequate for all of the extra service you have performed for the Reverse Osmosis (drinking water) System. If only all businesses were operated the way you operate yours, life would certainly be less stressful. God bless you and yours."
"My husband and I want to take the time to thank you for the pleasant and thorough presentation. The service is excellent and the installer was efficient and professional as well. We will be sure to recommend your service to others."
"I take time out to write this letter to express my satisfaction with the water conditioning system that your guys installed in my home….they agreed to visit my home, at no charge, to determine if they could accommodate my particular installation request. I did a lot of research before deciding which of the competing systems to select. The completed job looks great and to this day has performed flawlessly.
My thanks to your crew for a job well done.. A word about the price: unbelievable. I do my homework before I sign on the dotted line and I know that I got a better installation from you than I could have gotten anywhere else, and at a fraction of their prices."
"This company has amazing customer service and great options for renting/buying water softeners for the home. They focus on customer needs and ensure that they find a softener or product that fits your budget and needs. The softener makes a huge difference in the water quality, water pressure, and laundry. I highly recommend this company."
"Recently, we experienced a problem with your water softener. We called and talked to a 'Live Voice', who listened to the problem and assured us someone would get back to us. Within an hour (after business hours), someone did call us back and promised service personnel would be out the next day to repair the problem. He arrived as scheduled and solved the problem.
IS THIS ANYWAY TO RUN YOUR BUSINESS? YOU BET IT IS.
Wish there were more businesses attuned to your form of customer service. Thank you."
"Brad, the owner runs the business like an owner should run his business, I believe! Had service for almost 2 years now. After high water bill for undetermined reason we began to suspect the softener was leaking even though we had little evidence to go that direction. Brad ensured that a replacement unit was install next day just to ensure I was satisfied with service. IMPORTANT: The problem had nothing to do with the softener! Appreciate owner's interest in customer satisfaction."
"For those of you who have never had the pleasure of having soft water, it means that your clothes are softer, your skin feels cleaner, and your hair even improves in condition. You do get that slippery feeling and it feels like it takes forever to get off the soap, but boy does it eliminate the soap scum in my shower!
When I first looked into various water treatment companies they had the best price overall. They also have different options. I rent out my softener and pay a monthly fee. They take care of the salt and I don't have to worry about a thing. The delivery person is so nice every time and he even brings in the paper! This is a family business clearly focused on service as they have bent over backward to make sure I stay satisfied. In the soft water business, that's a hard thing to do!"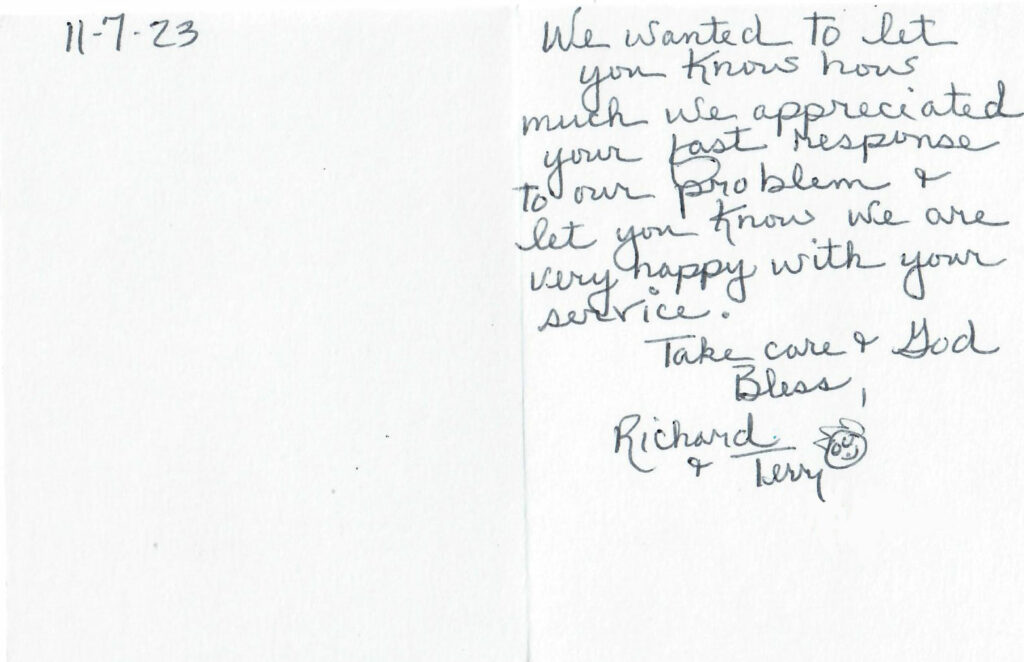 When it comes to your water, Pacific Coast Water Systems delivers.