Commercial Reverse Osmosis Systems
Drinking Water Treatment For Your Business
Has your office drinking water situation become a hassle? Find out what many LA and Orange County area businesses already know. That is that you can provide high quality drinking water for your employees and eliminate the problems associated with bottled water delivery services at the same time. As a bonus you will find that Pacific Coast Water Systems water is more economical than you thought.
By using the latest point of use water treatment technologies, having bottled quality water on tap is not only possible, it is more convenient and less expensive than traditional bottled water service.
Pacific Coast Water Systems will design a drinking water program for your office, shop or warehouse. Let your Pacific Coast Water Systems Water Professional come by and assess your needs and put together a plan that will allow you to finally get rid of those bottles in hallways, closets and loading docks. Your Pacific Coast Water Systems representative will be able to show you an estimated monthly savings based on his or her recommendations.
Pacific Coast Water Systems can also design a Reverse Osmosis System for manufacturing and other process applications. We can install systems from as little as 100 gallons per day up to 25,000 gallons per day. We can provide all scheduled maintenance and repairs.
Pacific Coast Water Systems Compact RO
The Pacific Coast Water Systems Compact Commercial Reverse Osmosis system is designed for demand of moderate to high usage of high quality, reverse osmosis water. Great for Food and Beverage, Manufacturing, Agricultural and many more applications. System sizes range from 150 to 800 gallons per day.
Features
Fixed waste/recycle flow controls
Thin film composite membrane
Inlet/outlet pre-filter gauges
10" 5-micron sediment filter
10" carbon block pre-filters (2)
Feed water low pressure switch
110 volt 50/60 hz
Powder coated steel frame
Liquid-filled system pressure gauge
Advantages
Great for food & beverage needs
Great for manufacturing
Great for agriculture
Operating pressure 200 psi
Expandable 150 to 800 GPD
¾ hp motor (800 gpd)
Feed water inlet solenoid valve
Stainless steel membrane vessel
Storage tank pressure switch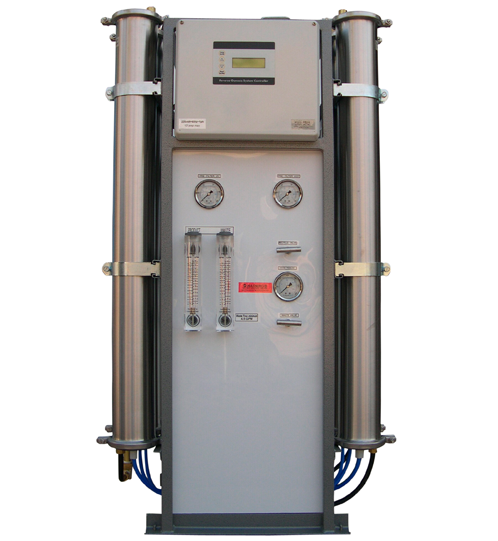 Pacific Coast Water Systems Frame Mount Vertical RO
The Pacific Coast Water Systems Frame Mount Vertical (FMV) Reverse Osmosis systems are designed to produce the highest quality of water possible for Commercial, Industrial, Agricultural, Car Wash and Food and Beverage uses. System sizes ranging from 1,800 to 10,800 gpd depending on the application.
Features
5-micron 10 X 4.5 pre-filter
Stainless steel multi-stage pump
Thin film composite membrane
Stainless steel membrane vessel
Powder coated steel frame
Liquid filled high pressure gauge
Inlet & outlet pre-filter gauges
Adjustable waste & recycle needle valves
Advantages
Expandable 1,800 to 10,800 gallons per day
Time delay start
Status lamps: power, running, low pressure & tank full
Dual level float switches
Up to 60% feed flow recovery rate
Product & waste flow meters
Low pressure switch
110 or 220v-60hz electrical supply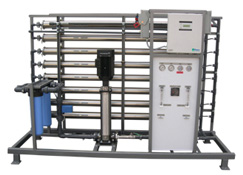 The Pacific Coast Water Systems FMH is the system for customers whose needs simply can't be met by any other system. The FMH is custom-designed to suit your requirements. This system can be made to produce from 9,000 to 35,000 gpd and can be mounted and plumbed to fit nearly any space or configuration. Pacific Coast Water Systems uses quality components and you receive optimum performance – the way you want it.
When it comes to your water, Pacific Coast Water Systems delivers.