Reverse Osmosis Drinking Water Systems – Under the Counter
Enjoy Fresh, Clean Water At Your Kitchen Sink
All Pacific Coast Water Systems products, including our Water Softeners and Reverse Osmosis (RO) Drinking Water Filters, are available for lease or purchase. Buy any Pacific Coast Water Systems product outright and add valuable equity to your home. Or lease any Pacific Coast Water Systems product for a low monthly fee and we take care of everything – maintenance, filters and repairs. Buy and add equity or lease and relax. The choice is yours with Pacific Coast Water Systems.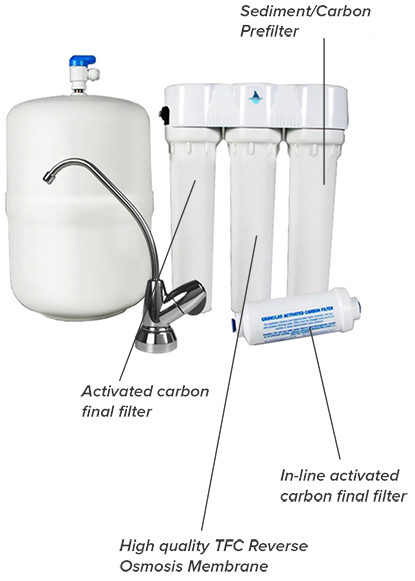 MicroClean Pacific Coast Water Systems 
Reverse Osmosis System

Fresh Clean Drinking Water with RO Filtration System
The Pacific Coast Water Systems MicroClean RO drinking water system, with post-carbon filter for great fresh taste, effectively reduces 95-97% of Total Dissolved Solids and other harmful contaminants.
STANDARD FEATURES
High-quality TFC RO Membrane to reduce Cysts and TDS
Activated Carbon Filter to reduce Chlorine, Chloramines, bad tastes & odors
Reduces contaminants such as arsenic, nitrates, sodium, copper and lead, some organic chemicals, and the municipal additive fluoride.
In-line activated carbon post filter for fresh taste
Up to 50 GPD of great-tasting water at your fingertips
Advantages
Eco-friendly, no more need for bottled water, saving the environment and saving you money
Great for drinking, cooking & ice cubes
Sediment, Carbon and Post-carbon filters in addition to membrane providing superior water
Removes 95-97% of unwanted contaminants
Helps protect your family from unexpected rises in contaminants from source water
Warranty
10 YEAR: Guaranteed free from defects of material and workmanship
1 YEAR: Reverse Osmosis Membrane
When it comes to your water, Pacific Coast Water Systems delivers.